The Black Sands Fall 2023 Edition Is Available Under Black Sands Newsletters
Click Here: Black-Sands-Fall_23.pdf (iwojimaassociation.org)
79th Anniversary Reunion, 15 – 18 Feb 2024, Hilton Arlington National Landing
Register: Iwo Jima Association Of America Reunion 2024
Reserve Hotel Room: https://book.passkey.com/go/2024The79thanniversaryiwojima
___________________________________________________________________
In Memory Of MGySgt Roger Roll
______________________________________________________________________
Online Registration For The 79th Anniversary Reunion Is Below.
Iwo Jima Association Of America Reunion 2024
Hotel Reservations Site Link For Discounted Rooms Is Below.
https://book.passkey.com/go/2024The79thanniversaryiwojima
_________________________________________________________________________
78th ANNIVERSARY REUNION OF HONOR TRIP TO IWO JIMA
Iwo Battle Veterans
Above, left to right: Ed Carroll, Nilse Mocklar, Dale Faughn, Larry St. Clair, and Courtland Pelton at the Reunion of Honor Ceremony.
Above: Ed Buffman (red and blue tie), Ed Cavallini, unknown veteran, and Louis Bourgalt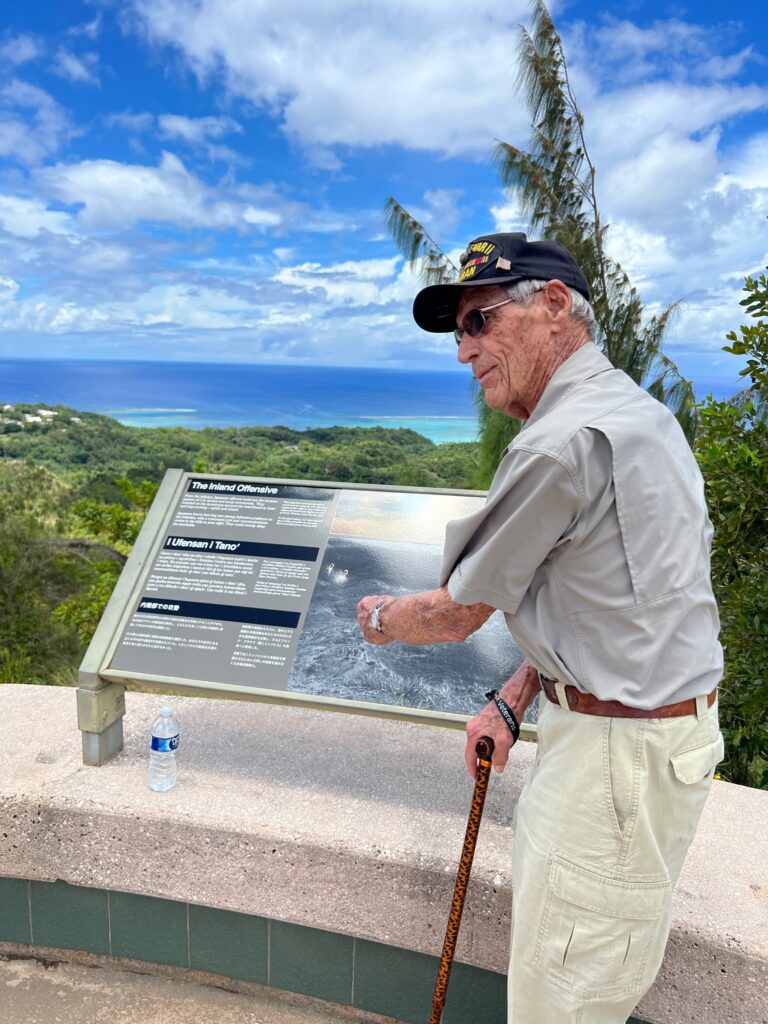 Louis Bourgalt points to an invasion kiosk on Guam. Louis was a part of the invasion of Guam in August 1944 before going on to fight in The Battle for Iwo Jima.
____________________________________________________________________
Guam/Iwo Jima 2023
Getting back to Guam and Iwo Jima……as the old adage goes, "the more things change, the more they stay the same". And so it was with the 78th Anniversary of the Battle for Iwo Jima Commemorative return to Guam and Iwo Jima as compared to 2019 following the limitations granted by COVID-19.
The 78th Anniversary tour was graced with over 400 attendees, including eight Iwo Jima veterans. The hotel, formerly called the Outrigger Resort Hotel, was physically the same but with a new name, the Dusit Thani Beach Hotel with some management changes. That said, the wonderful hospitality was unchanged.
The Guam tour schedule remained basically the same as in the past with visits to Big Navy, the Memorials, the Museum and lunch at Jeff's Pirates Cove. We considered a visit to the Marine base of Camp Blaz, however it is still under heavy construction for the foreseeable future.
Due to the increased number of participants this year from the WW II Museum, Valor, Ambrose and MHT, we had to use the Dusit Thani Beach Hotel's sister hotel, the Dusit Thani, to accommodate the educational symposium and evening banquet on the 24th of March with our Guest of Honor and Commander of Joint Region Marianas, RDML Benjamin Nicholson.
On the morning of the 25th, we flew to Iwo Jima on three chartered United Airlines 737s to be met by Marine representatives who later joined our Iwo Jima Marine veterans, Buel Faughn, Archie Holt, Louis Bourgalt, Nils Mockler, Ed Cavallini and Navy veterans Edgar Buffman and Courtland Pelton, the Commandant of the Marine Corps General David Berger, US Ambassador to Japan, the Honorable Rahm Emmanuel, plus other US and Japanese dignitaries and bereaved families for the traditional and reverent Joint Reunion of Honor (ROH).
The heat, humidity and reduced availability of transportation presented some challenges, but were met and overcome by our intrepid travelers as they hiked to the ROH, the beaches and/or Mt. Suribachi.
Unfortunately, Gerbers Museum has closed for now, so on the 26th we returned to Jeff's for the Fiesta where we hosted our friends from the Japanese Embassy in Washington, Deputy Chief of Mission, Mr. Tamaki Tsukada and Political Counsellor, Mr. Sasake Tomonori.
We experienced some lessons-learned given the changes in personnel and policy at the various command levels, however we look forward to working with all for the 79th Anniversary in 2024. Please visit the website www.iwojimaassociation.org for some great photographs of Guam/Iwo Jima 2023.
Reunion of Honor Ceremony, Iwo Jima, 25 March 2023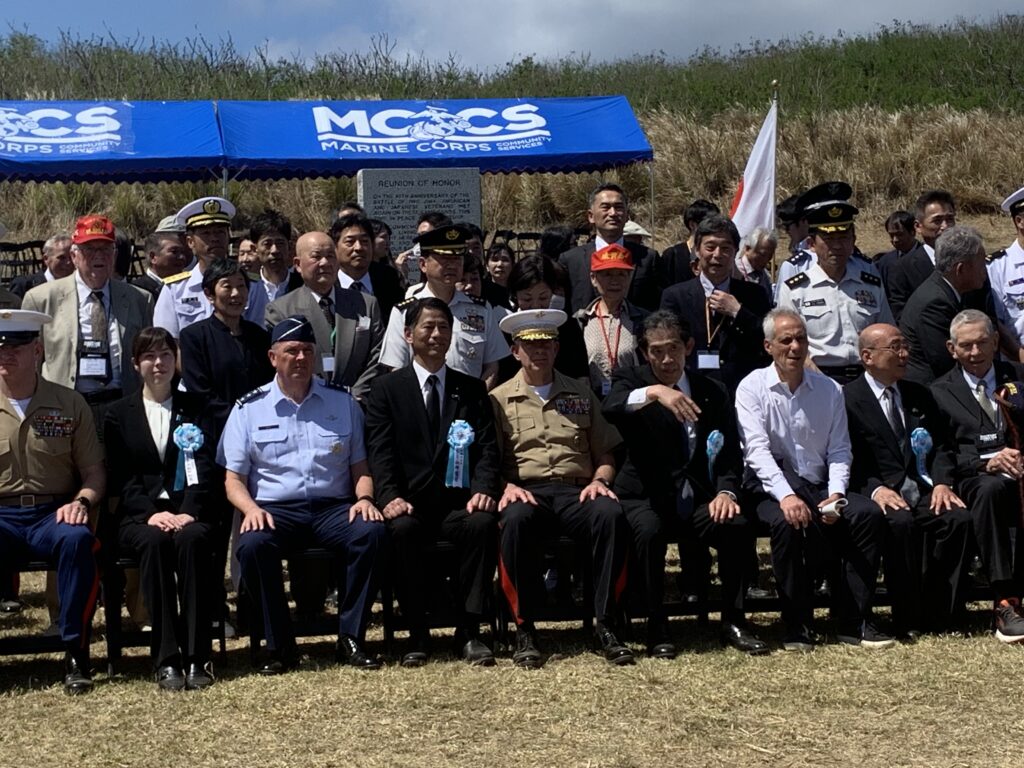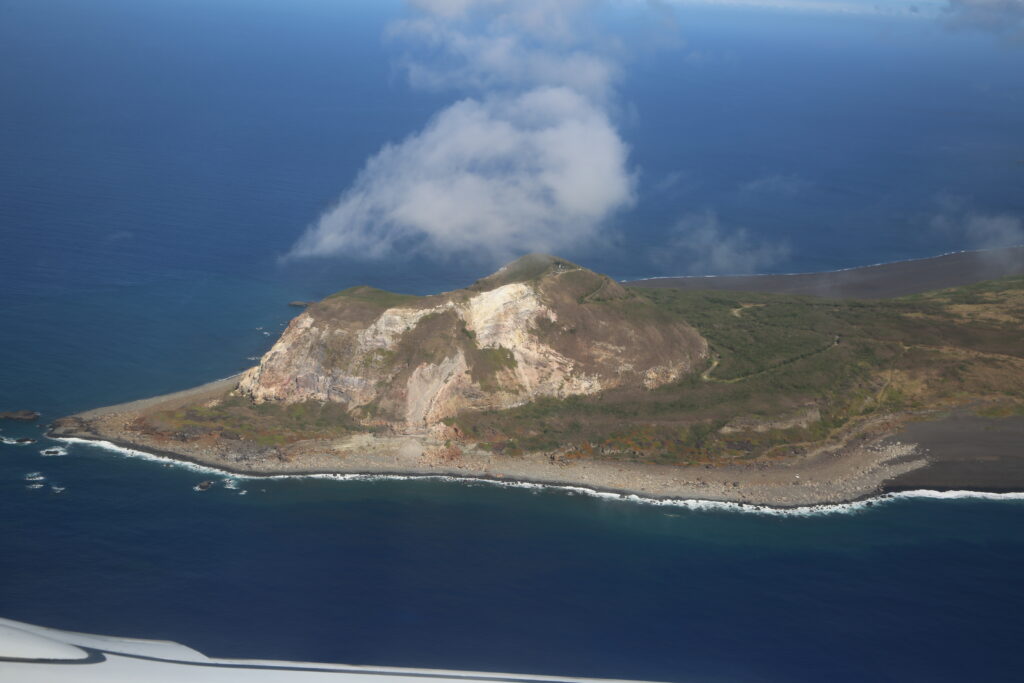 Mt. Suribachi And The Invasion Beaches, 25 March 2023, 78 Years After The Invasion
On Final Approach To Iwo Jima Airfield With Mt. Suribachi In The Background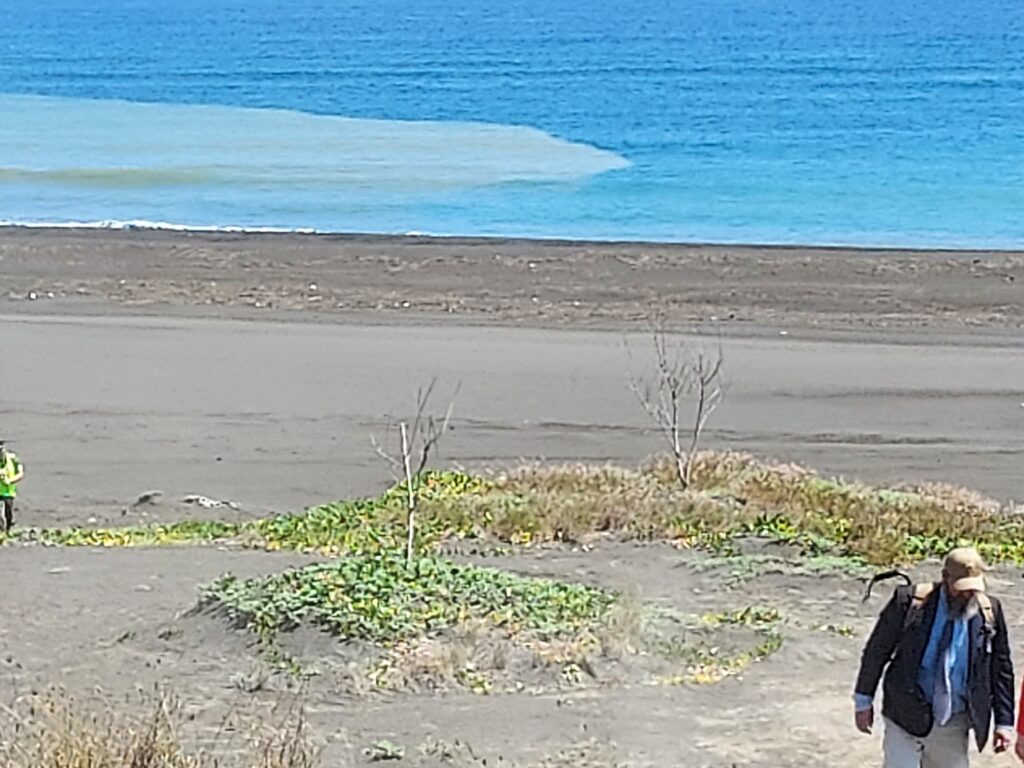 ____________________________________________________________________
IJAA Announces The MajGen Fred E. Haynes Scholarship Program
The Iwo Jima Association of America (IJAA) , a 501c3 Public Charity, ein # 80 0255086 is pleased to announce the MajGen Fred E. Haynes Scholarship program devoted to rewarding ROTC Midshipman for the academic and leadership achievements as they pursue their military commissions and career. The first award for $5,000 granted by Leonardo Helicopters and hosted by IJAA was recently presented to NROTC 2/C Midshipman Evelyn Hoyer on 28 April. Ms. Hoyer is now a 1/C Midshipman at George Washington University where MajGen Haynes, an Iwo Jima veteran, was awarded a Masters Degree.
In IJAA's continued effort to perpetuate and legacy, commemorate those Pacific Island veterans and ensure the public never forgets their sacrifices, through educating the public through an outreach program and reward excellence to those who demonstrate the leadership and selfless qualities on those who went before. Accordingly, IJAA is pleased to offer the opportunity for individuals and organizations to donate to or sponsor this reward for excellence and leadership.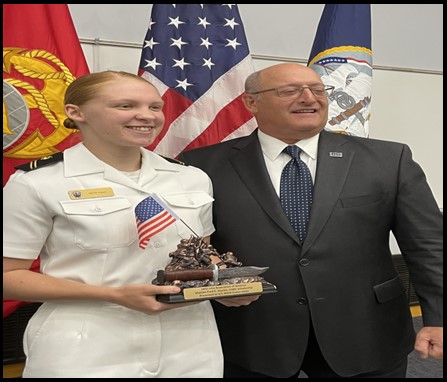 Those wishing to donate to this scholarship program may do so via PayPal. Those wishing to sponsor may contact LtCol Raul Sifuentes, USMC (Ret), Executive Director at email: rsifuentes@iwojimaassociation.org or call office- (571) 569-4522(IJAA) or call/text- (M) 703 963 6895.
Donate to the MajGen Fred Haynes Scholarship Program
__________________________________________________________________________
The 78th Anniversary Reunion Brings Iwo Jima Veterans Together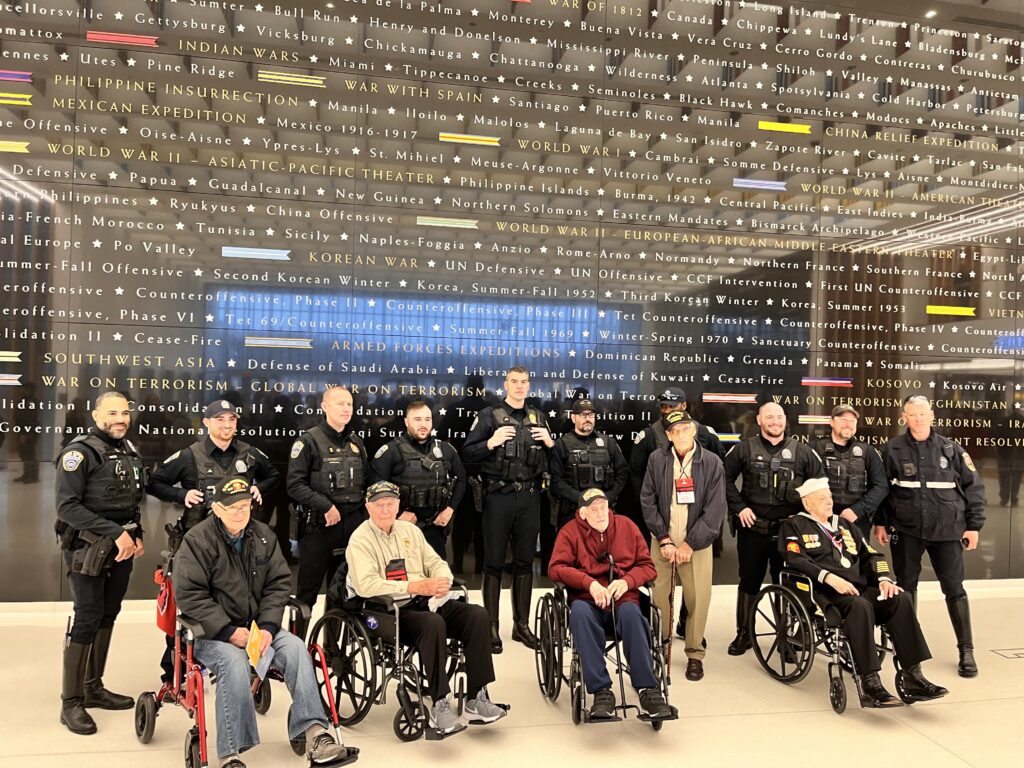 The Iwo Jima Association of America (IJAA) commemorated the 78th Anniversary of the Battle for Iwo Jima from 16-18 February at the Hilton Arlington National Landing Hotel in Crystal City, Arlington, VA. We were honored to have a number of Iwo Jima veterans present to once again be commemorated and interviewed. The Iwo Veterans who attended, Louis Bourgalt, Roy Earle, Buel Faughn, Ivan Hammond, Juan Montano, Matthias Guttman, and Marion Noel strongly represented the Navy and Marine Corps Iwo Jima and Pacific Island veterans.
The event began on Wednesday with the Traditional IJAA Board of Directors meeting welcoming Mr. Ray Etter aboard as a new Director. Director and Chairman of the Development Committee, Mr. Gene Colabatistto introduced the MajGen Fred Haynes Scholarship Program with George Washington University, launched under the Chairmanship of MajGen Haynes' widow, Sr. Vice President Mrs. Bonnie Haynes. The scholarships will go to deserving ROTC students interested in the various historical and political aspects of the Battle for Iwo Jima. IJAA is grateful to Leonardo Helicopters as the first donor in support of the program. Mission Barbecue, always a strong supporter of the military and veterans provided a wonderful evening barbecue buffet.
On Friday morning all boarded a bus to tour the US Army Museum, followed by commemorative wreath-layings at the WW II Memorial in Washington DC and the Iwo Jima Memorial at Arlington.
On Saturday, the group enjoyed the educational symposium on the attack on Pearl Harbor and the Pacific Islands campaign, with presentations by historians Mr. Shayne Jarosz, Dr. Charles Neimeyer and Mr. James Oelke-Farley. A special presentation was provided by the Japanese Defense Attache', Capt. Yusuke Kawachi. Captain Kawachi provided an excellent presentation on the defense preparations made by the Japanese military in the Pacific Theater, especially Iwo Jima. That evening all enjoyed a tasty buffet, followed by EMCEE and IJAA President and CEO, MajGen David Bice. The evening's schedule provided the presentation of colors by the Young Marines and a musical interlude by the famous Presidents Own Quintet. Following dinner, IJAA Chairman LtGen Norman Smith introduced the Guest of Honor, Marine Commandant General David Berger. It was then the Second Annual Hershel "Woody" William Spirit Award was presented to Chairman of Potomac Institute, former Commandant General Al Gray and CEO, Dr. Jennifer Buss for their patriotic service to Corps and Country. The evening continued with the entertainment of music and dancing by our good friends Rick and Robin Gordon's Radio King Orchestra.
IJAA looks forward to the 79th Anniversary Commemoration at the Hilton Hotel again next February 15-17….. Mark it on your 2024 calendar!!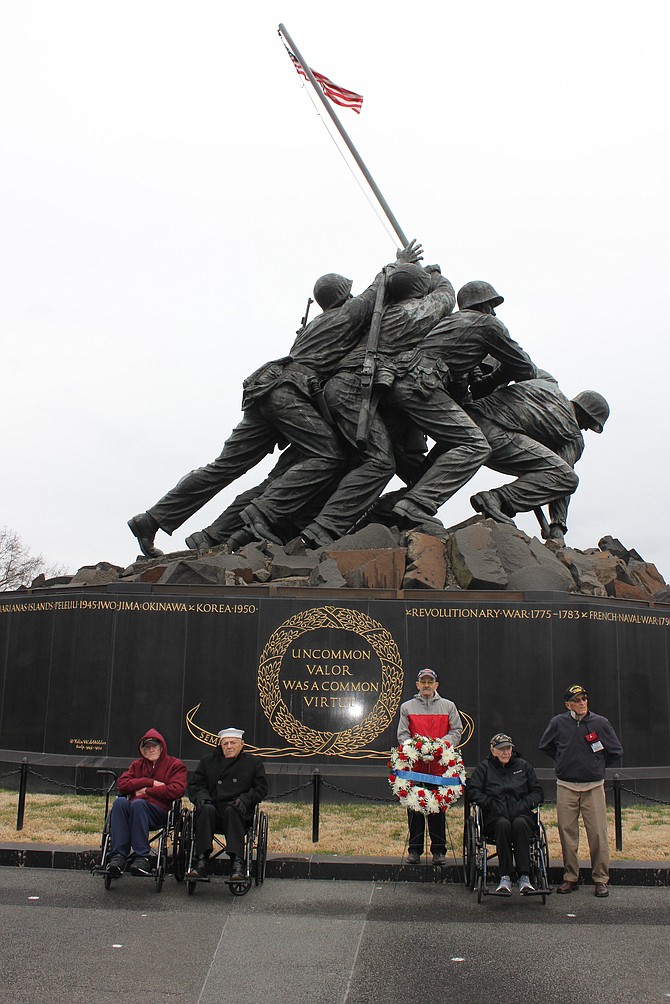 OUR MISSION
Welcome to the new Iwo Jima Association of America website.
IJAA is committed to this dedication through the promotion of historical and scholarly study of the battles for Iwo Jima and other Pacific Islands by educating veterans, their descendants, students, academia and the general public. To that end, programs are comprised of educational symposia, tours of Iwo Jima and other Pacific Island battle sites and an educational outreach program.
The Iwo Jima Association of America (IJAA) is a 501 C 3 non-profit public charity dedicated to preserving, commemorating and perpetuating the history and legacy of the Battles for Iwo Jima and Pacific Islands, and the veterans who fought.
___________________________________________________________
Dignified Transfer of Hershel Woody Williams, Andrews Air Force Base
Click on the link below to watch the video.
https://www.youtube.com/watch?v=_OAKQUbQb-Y
_______________________________________________________________
Ceremony at WWII Memorial for Hershel Woody Williams
Click on the link below to watch the video.
___________________________________________________
Memorial service held Sunday, 3 July to honor Hershel "Woody" Williams
Click on this link to view the memorial service.
Memorial service held Sunday to honor Hershel "Woody" Williams | WCHS (wchstv.com)
Hershel "Woody" Williams, last to receive Medal of Honor from World War II, will lie in honor at U.S. Capitol.
Click on this link to view a CBS News video about Woody Williams.
https://www.cbsnews.com/news/hershel-woody-williams-death-last-medal-of-honor-recipient-world-war-ii-lie-honor-us-capitol/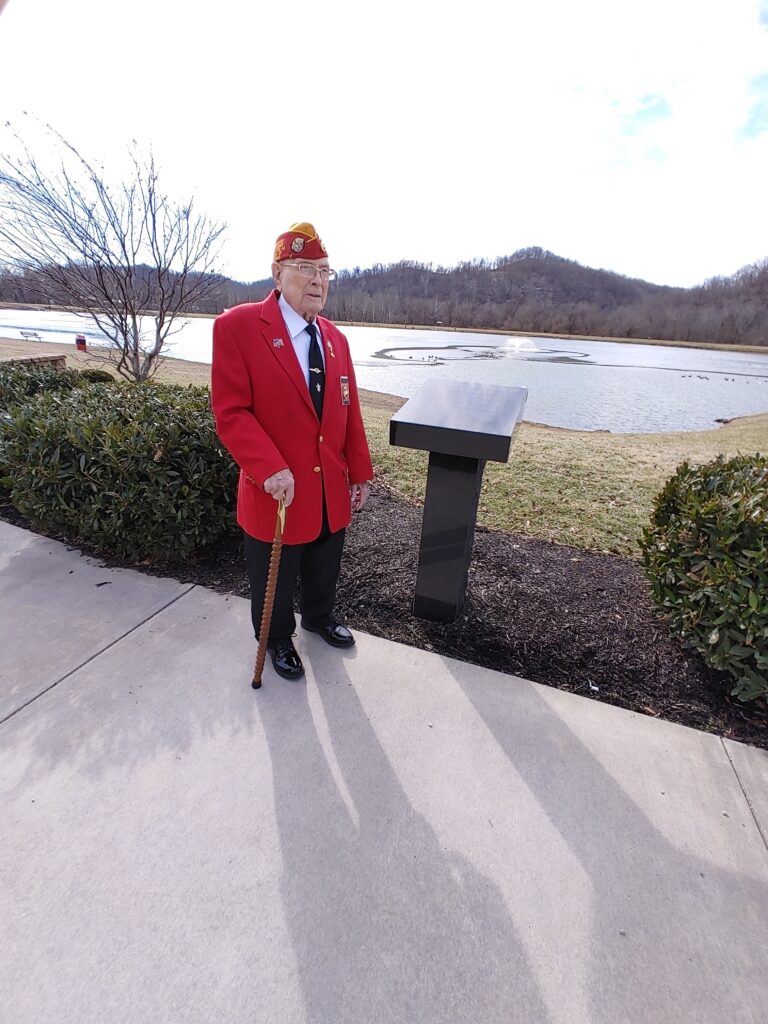 Woody Williams made this video for the 77th Anniversary Reunion, February, 2022.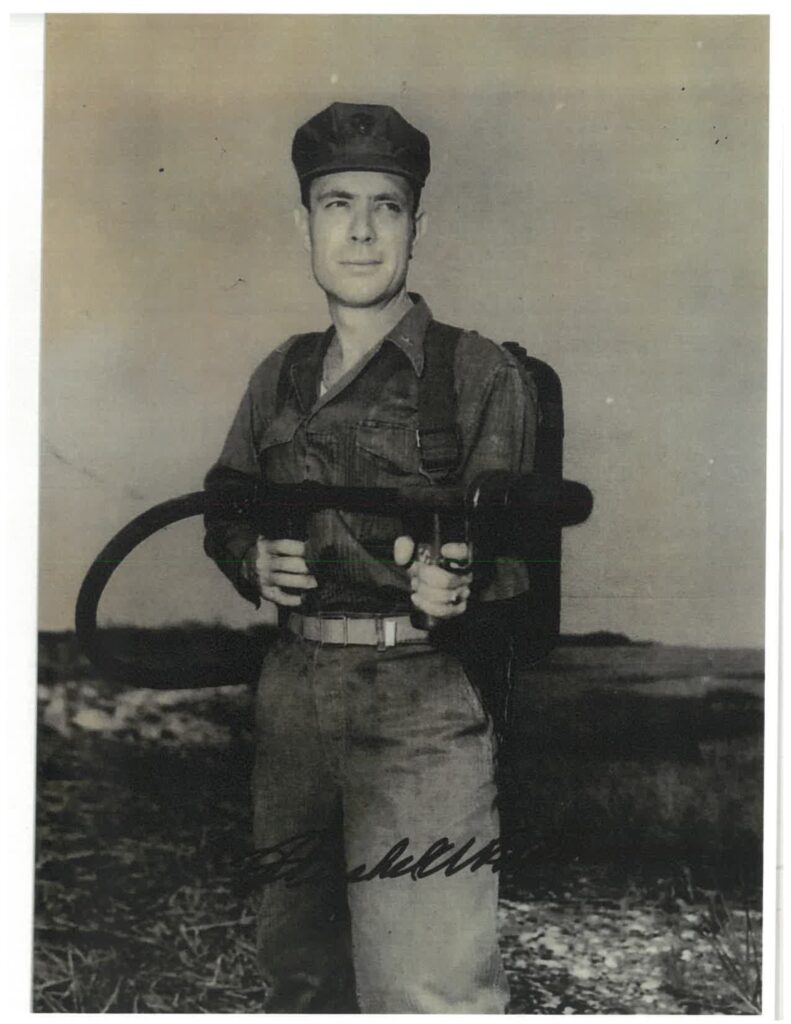 A message from the Commandant of the Marine Corps General David H. Berger:
"On behalf of all Marines, Sgt Maj. Black and I are heartbroken to learn of Woody's passing. From his actions on Iwo Jima to his lifelong service to our Gold Star Families, Woody has left an indelible mark on the legacy of our Corps. As the last of America's "Greatest Generation" to receive the Medal of Honor, we will forever carry with us the memory of his selfless dedication to those who made the ultimate sacrifice to our great Nation. The Marine Corps is fortunate to have many heroes, but there is only one Woody Williams. Semper Fidelis, Marine."
________________________________________________________________________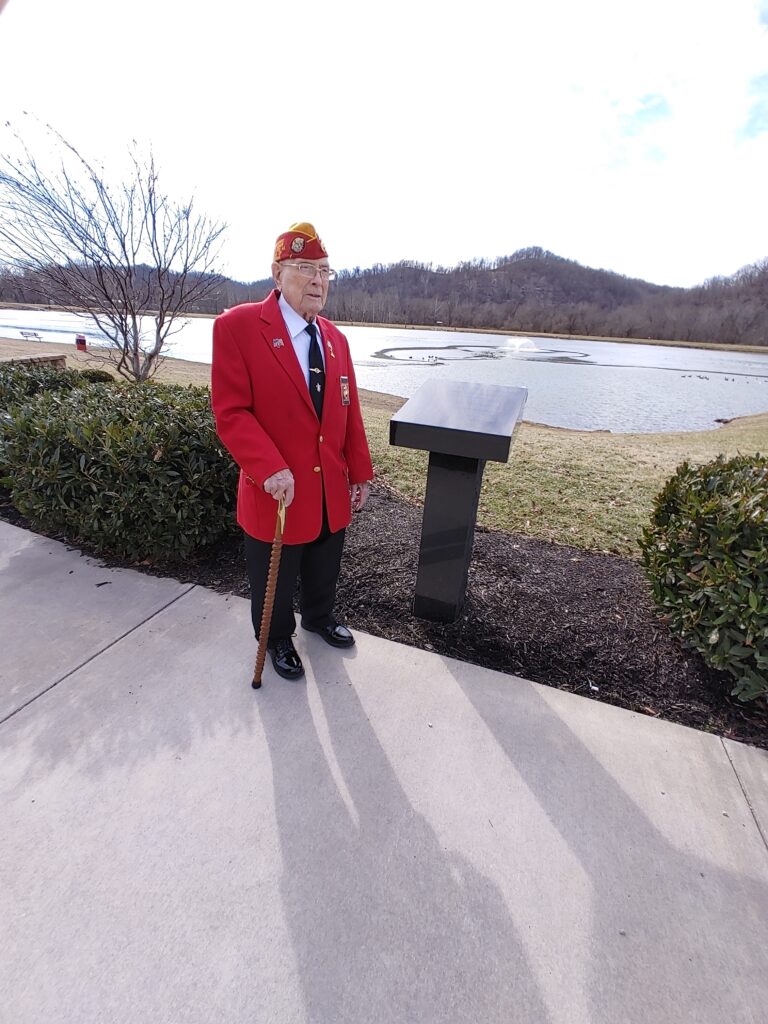 Marine Commander of Iwo Jima flag-raising Col. Dave Severance immortalized at Mt. Soledad
Presidential Message on the 75th Anniversary of the Battle of Iwo Jima
75th Anniversary Symposium Update
75th Photos
Thank you for your support of the 75th Anniversary of the Battle of Iwo Jima Gala Event. The dinner, music, history and most importantly — our vets — made this year's event perfect. See photos here.